A Gift that lasts Forever
When you create a fund though the NCCF, your gift becomes a part of an endowment.  Endowments are permanent funds in which the principal (the amount donated) is never spent.
These funds are invested, earning returns that are distributed to support charitable works you designate at the time of the gift in perpetuity. Over time, the amount granted exceeds the original contributions to the fund, while the original gift remains intact. In fact, thanks to responsible investing, the fund balance continues to grow over time.
One Gift, Many Generations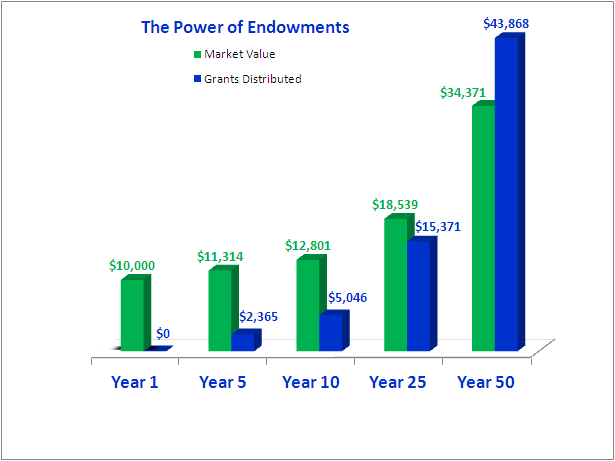 Consider how your endowment gift can grow. If you make a $10,000 gift this year, 25 years from now, the fund you establish will have a balance of $8,539 and will have distributed $15,371 in grants.    In 50 years, your initial gift amount will have been given away four times totaling over $43,000 and your initial gift will have grown to $34,371.   This this chart is based on an estimate and are not a guarantee of actual results.  The example is based on our current spending and fee policies and an example 8.5% rate on investment. In 2019 the average rate of return on investment was over 20%.